This list is compiled of books I've read, speakers I've heard, and sites I visit regularly. All have had a positive impact on my life – and on my family and/or marriage.
Marriage
Every Woman's Marriage
Shannon and Greg Ethridge
Drawing on real-life stories from both men and women, as well as lessons from their own less-than-satisfying early years of marriage, they offer penetrating insights about what it takes to nurture a dynamic marriage.
Every Man's Marriage
by Stephen Arterburn and Fred Stoeker with Mike Yorkey

In Every Man's Marriage, readers can discover the common misconceptions about what it means to exercise biblical authority, and understand the role of submission in the marriage relationship. This groundbreaking book can help readers grasp and apply essential but often overlooked principles for marital leadership.
Sacred Marriage
by Gary Thomas
What if God's primary intent for your marriage isn't to make you happy . . . but holy? And, what if your relationship isn't as much about you and your spouse as it is about you and God? In this popular bestselling book, Gary Thomas uncovers how your marriage can become a doorway to a closer walk with God and each other.
What Did You Expect
by Paul David Tripp
What Did You Expect? challenges you to look into the mirror of God's Word and see yourself with clarity. Maybe it's you. Maybe you love yourself more than your spouse. Maybe you love your little kingdom more than God's big Kingdom. When you reach that level of honesty, you're at the edge of real good things for your marriage.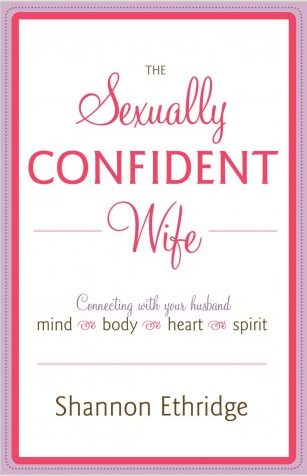 The Sexually Confident Wife
by: Shannon Ethridge
Every woman deserves to enjoy great sex with her husband, without inhibition or shame. But many wives live with the burden of self-doubt or feel mystified about what men really want in bed. Others wrestle with memories of sexual abuse or neglect, guilt over past intimate relationships, or negative feelings about their own bodies.
The Sexually Confident Wife opens a new world of passion for every couple, helping women to connect with their men on every level–physical, mental, emotional, and spiritual–enabling them to fully enjoy the ultimate, enduring union that marriage can be.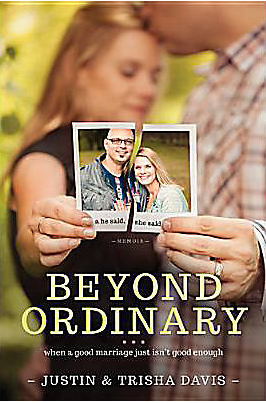 Refine Us Ministries
Beyond Ordinary book by Justin and Trish Davis
Beyond Ordinary is a book about the heart: our heart, your heart and God's heart for marriage. Beyond Ordinary will stretch you. It will challenge you. It will inspire you to keep going. It will ask you to pick each other up and run with grace and purpose. To leave ordinary behind as you move toward extraordinary
 The Fruitful Wife
by Hayley DiMarco
How can you be the woman God is calling you to be—a woman who bears the fruit of the Spirit in your marriage and in the daily grind of life?
To help you grow, Hayley explores the biblical significance of all nine fruits of the Spirit, explaining how each fruit first begins to grow and then how each impacts your day-to-day life and marriage.
_________________________________________________
Family/Kids
Heaven at Home
By Ginger Plowman
Just as Jesus is preparing a magnificent place for us in Heaven, we can prepare our homes to be a haven where spirits are renewed, dreams are nurtured, and the best of life is lived. Nestle your family into a warm and welcoming refuge by learning how to establish and enjoy a peaceful home.
Building a Christ Centered Home
by Billy Graham
Building a Christ-Centered Home teaches how to invest time wisely in the people and things that matter.  The strength of your family's commitment to spiritual life and faith can do much to enable growing together.  As we journey through life, with God's strength, we can become the people and the families He intended us to be.
5 Conversations you must have with your Son
by Vicki Courtney
From the cradle to college, tell your sons the truth about life before they believe the culture's lies. Helps moms and dads pinpoint and prepare the discussions that should be ongoing in their sons' formative years.

5 Conversations you must have with your Daughter
by Vicki Courtney
For mothers with girls ages zero to eighteen. Helps moms pinpoint and prepare the discussions that need to be ongoing from cradle to college so their daughters will know the truth about life before they believe the culture's lies.
Growing Grateful Kids
by Susie Larson
With the currents of materialism and entitlement flowing so strong, how do we raise kids who are simply thankful? With simple language and biblical applications, Susie helps us to understand that although teaching perspective and gratitude to our children is critical, it's not difficult. Throughout the book Susie reminds us that we cannot impart something that we do not possess.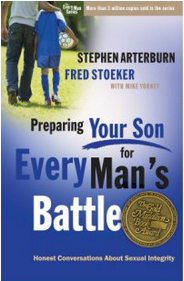 Preparing Your son for Every Man's Battle
Steve Arterburn and Fred Stoker
The authors behind the best-selling Every Man series have put together all the resources and guidance you need to experience frank, thorough, and natural conversations with your son about sexual integrity. They offer an effective new communication process that ensures a deep, abiding relationship as your son moves into his teen years and beyond.
Equip him with the biblical information and spiritual insights he needs to stand strong, overcome temptation, and experience the blessings of godly obedience…for the rest of his life.
Two great (REAL) books by Meg Meeker for Dads and Moms. 
Dr. Meg writes with the know-how of a pediatrician and the big heart of a mother because she has spent the last 25years practicing pediatric and adolescent medicine while also helping parents and teens to communicate more deeply about difficult topics such as sex, STDs and teen pregnancy.
Click on the photo at left for a purchase link.
Click here to learn more about Meg Meeker. 
A fantastic series of books to teach your children about their bodies and sex from age 3-18.